Want to see the best male transformations of 2018? 
Then look no further! We have come up with our top 10 list of the best male transformations of 2018. Who's the winner?
Check out the incredible hard work of these gentlemen here…
Initially Damon came to Enterprise eating one solid meal per day along with three to four protein shakes as he thought this would be the most efficient way to lose weight.
In his first session, we educated him about nutrition and set him up on a plan of eating 4 quality meals per day and cutting out the shakes completely.
We began increasing his food intake on a weekly basis until we found his baseline energy expenditure. This took us 6 weeks, and at this point he was eating more than he ever had whilst still losing body fat.
---
"I came to Enterprise with a goal in mind – a goal that I felt like I've been chasing forever.
I've had a few disappointing experiences within the fitness industry before, and it took a giant leap of faith coming to Enterprise.
Since the moment I walked through their front door, I have been treated with nothing but love, respect and care.
12 weeks ticked over and not only did I reach my goal, I exceeded it substantially!"
---
"I've struggled with a 10-year shoulder injury from playing football prior to this, and I was starting to accept that maybe that's just the way it was. But then I came to Enterprise. I was blown away by the genuine eagerness here to solve problems, adapt to situations and adopt new principles.
Fast forward to today, I'm totally pain free and have been for 12 months. PLUS, I'm in the best shape of my life!"
---
"Looking back, I've:
– Been at 92 kilos;
– Got down to 8% body fat and still wasn't satisfied;
– Lost my passion for fitness and took 2 years off of training;
– Gained back some of the weight during that 2 years;
– To now sit at 6.5% body fat, prepping for my first comp…"
---
Chris came to Enterprise Fitness confused about what to do with an injury that he'd been battling for more than 10 years. He had seen over 40 different medical professionals prior who didn't get him the results he wanted, so he thought he would try a different approach. That's when he found Enterprise
Chris' body transformation story at Enterprise Fitness has been life-changing; now studying Personal Training himself wanting to become a trainer!
---
"I first started with Enterprise Fitness at the start of October 2017.
I was in a place where I didn't feel good about myself. I wasn't what most people would call overweight, but I was definitely quite chubby – I didn't have the physique that I wanted to make me happy. I was sluggish and in a bit of a 'rut' mentally with what to do in order to be where I wanted to be.
I decided to come to Enterprise with the main goal to tick something off my bucket list – to enter a body sculpting competition and completely transform my body…."
---
Meet Maxwell.
Maxwell challenged us to a 90-day transformation.
The result to be broadcasted to his legions of followers on Youtube.
We better produce the goods!
And did we mention he was on a vegetarian plan?! (Only eggs!)
Want to see the result? Have a watch!
---
When David came to Enterprise, he had limited control and function of his left scapula, and his main goal was to resolve that issue.
In order to get the best result possible, we ensured his nutrition was on point as his left scapula was limiting his training intensity. In terms of training, the main focus was on:
Ingraining optimal control and movement patterning of his scapula, as well as
Strengthening his upper back strength.
This not only allowed him to master the chin up, but also add 20kg to his bench press.
---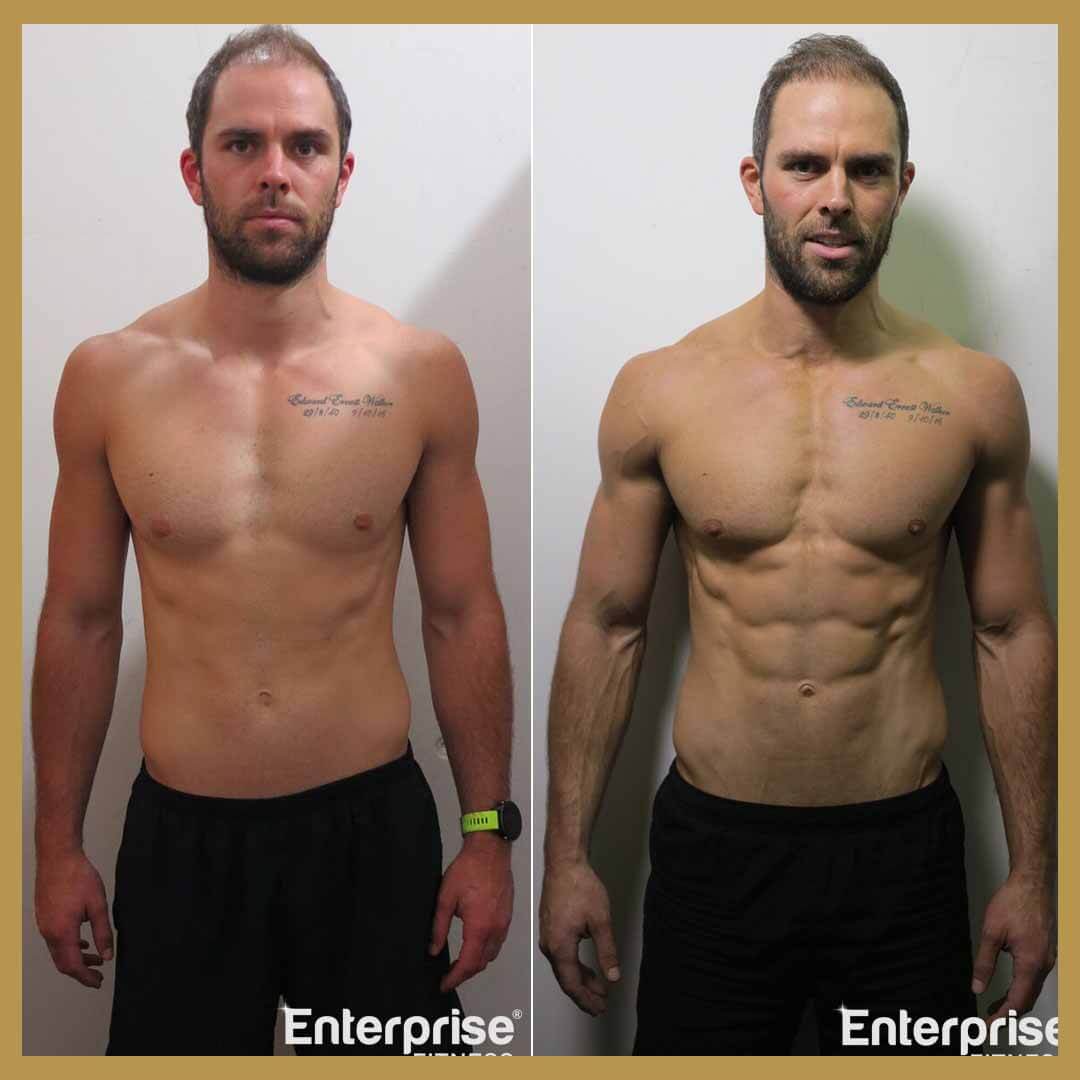 Luke originally came to Enterprise Fitness to improve his performance on the soccer field and to further develop his knowledge and skills when it came to Personal Training.
In 7 weeks, Luke dropped 4.3 % body fat on the calipers going from 9.4% to 5.1%. He also gained 2.3kg muscle mass during this fat loss phase! What a transformation!
---
Marcus came to Enterprise Fitness in January 2018 with the goal of changing his body composition, increasing muscle mass and getting leaner.  He was also recovering from a fairly significant bicep tendon tear which required surgery.10 months later and we have a head-turning transformation!
Weight: 76kg same as the start
Body Fat: 21% down to 8% (13% drop)
Lean Mass: up from 60kg to 69.4kg (9.4kg increase)
---
Related Posts